Jewelry can instantly improve your look. There are some pieces every woman should own. Here is my top 10 list.
1. Pearl studs. This is a timeless piece so Do choose Akoya pearls.
2. Diamond studs. Thats an investment so be smart and get yours from a jeweler, so they will be certified.
3. A pearl necklace, I love the signature Tifanny's pearl necklace
4. Gold bangle. One of the most famous and most Classy is the Cartier Love bracelet. Timeless!
5. A classic watch. My choice is the Cartier Tank Louis watch, as seen on Jackie kennedy, Angelina Jolie and many more.
6. Diamond Pendant. One word...Elegant!
7.Gemstone Ring. Immediately attracts attention, can be used like cocktail ring. A popular choice is an emerald ring, make sure it is columbian, the richness of the color will reward you.
Blue Sapphire is so royal, you can not go wrong with that
A good choice for every day is pink Sapphire on rose gold setting, you will never get bored of it.
8.Enamel cuff. I can not thing of another brand that makes enamel Cuffs better that Hermes. There is a wide selection and some pieces are statements by themselves.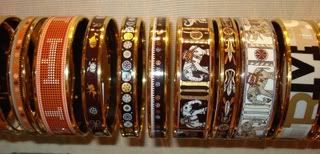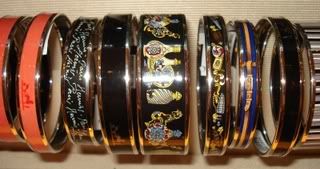 9. brooch. It adds an edge to your outfit. Choose something funky like Van Cleef & Arpel's, a classic statement like Cartier or a vintage piece of art from Cartier.
10. Hoop Earrings. I admit some women can pull this look and add an extra touch of elegance to their outfit. My advice, larger hoops are more suitable for younger age. Smaller hoops are more sophisticated.